The Reception staff would like to wish all their Reception families a very happy and restful Christmas. The children have learnt so much this term and we are really proud of them all. We look forward to seeing everyone back on 2nd January 2018.
Christmas Party
Reception had a great time at their first Christmas Party at Parley. They helped Mr Bagwell to juggle and played lots of games, including Musical Statues (with Mr Bagwell trying to make them move), Musical Laps (a twist on Musical Chairs), Knights, Monks and Good Friends and Pass the Parcel. Everyone had a great time and Joe said 'This is the greatest party I have ever been to'. It was a lovely way to celebrate the end of their first term as Parley learners.
Autumn Scavenger Hunt
We have loved going on an Autumn scavenger hunt. We worked with a partner to find all the things on a list then we collected them in a bag ready to take back to the classroom. We found acorns, different shaped leaves and horse chestnuts.
Lemur Landings
Even though we have only just started school, we have already been on a school trip! We had a great time at Lemur Landings, playing with our new friends and trying to be brave on the climbing walls. It was great fun and we would like to thank the extra grown-ups who came with us to help to keep us safe.
Our School Grounds
We went for a walk around our school grounds. We have a lovely, big field, a pond and a wood. We found lots of conkers and learnt how to put our welly boots on.
People who help us
We have been learning all about people who help us. There are lots of people that help us in school – with our learning, in the office and at lunchtime. We even have some Year 4 children who help us at playtimes.
We have also been learning about people who helps us outside of school, such as doctors, nurses, dentists, the police, vets and firefighters. We had visits from some firefighters. It was great fun when we were allowed to squirt the water.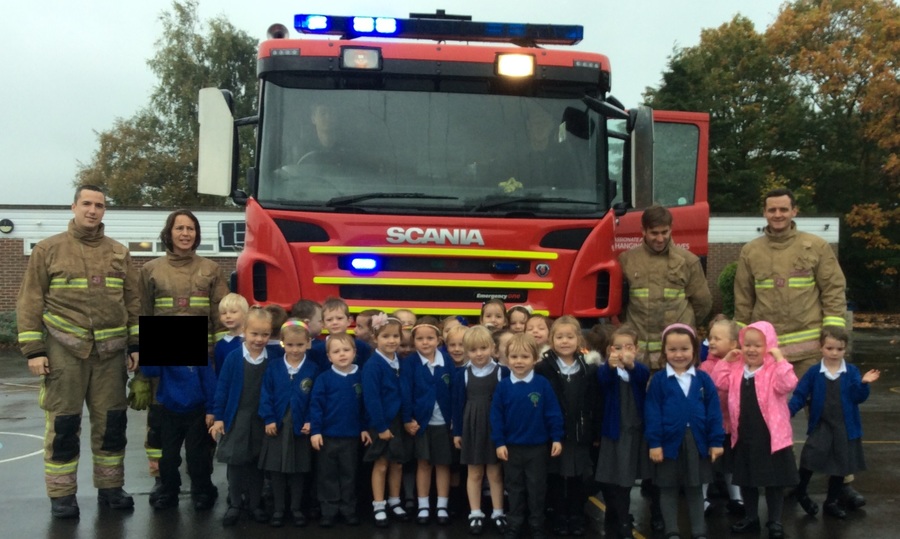 Our First Week at School
We have settled in well to our new Reception classes. We have been learning the names of our new friends and where we need to put things away in our classrooms.
Home Learning Samples
Here are some samples of what you could do with your Reception children to support them with their sounds that they are learning at school. The children can draw or cut and stick pictures and photographs in and either practise writing the letter shape or write labels for their pictures.
L&S sample 1.pdf L&S sample 2.pdf L&S sample 3.pdf
Please keep coming back to this page as photos of the children and their learning will be posted from time to time!
Welcome to Reception!
In Reception we are very excited to be starting our learning journey at Parley First School. Our classes are called RW and RF. Our learning this term is 'All About Me!' and we will be learning about ourselves and people who help us. We will be reading, writing, counting, painting, singing, playing, making lots of new friends and many other exciting things.
We look forward to sharing our photos on this page so that you can see what we have been doing.
Mrs French Mrs Wyatt-Jones