Welcome to our Year 1 Page !
Class of 2015/16
Easter Egg Hunt
The children had great fun searching the field on an Easter Egg Hunt this morning.
Thanks to POPS for providing an egg for every child.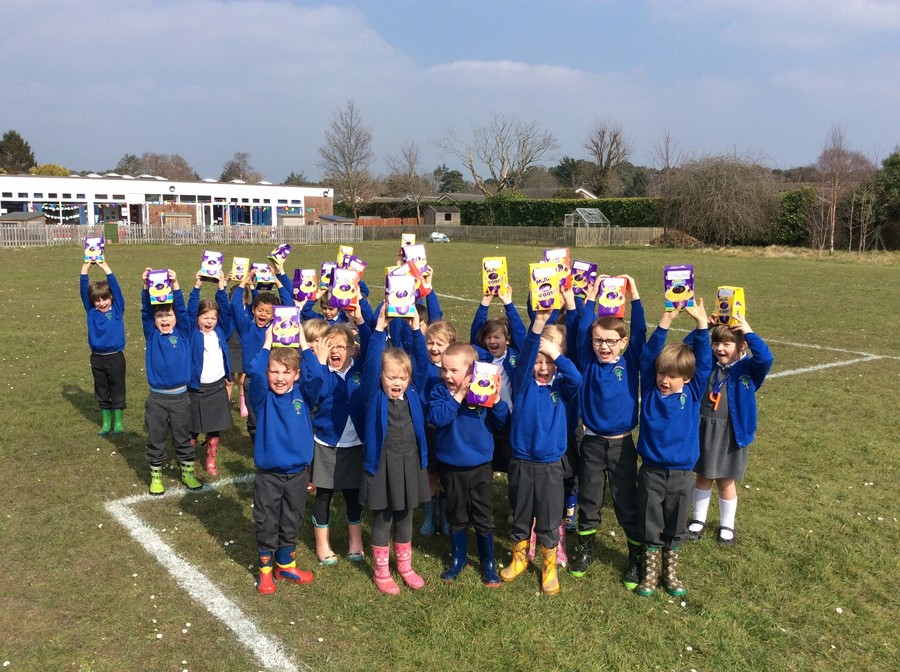 Jan 2016 - Traditional Tales
We have been learning about traditional tales in Literacy and materials in Science. We have been investigating the properties of different materials to answer questions such as "Could the wolf really have blown down the houses made of straw and sticks?" and "Is it possible to make a tall beanstalk out of newspaper?" (Watch out for the 'wolf-dryer' in our three little pigs experiment!!)
Greater Than and Less Than
We have been investigating how to use symbols to compare numbers.
November Home Learning Celebration
We chose one piece of our home learning to bring in and share with the rest of Year 1. We had great fun talking to each other about what we had found out, and looked at all the different ways we could present our learning. Our teachers think we are amazing!!
Learning our Number Bonds
Kites !
We used lots of different skills to make them and then had great fun flying them!
Dough Disco
We had great fun in Dough Disco! We learned how to get better at cutting, pencil control and letter formation. We moved and manipulated the playdough in time to the music!
Mr Wolf's Week
We had great fun composing our own weather music using body percussion and instruments. We chose sounds that we thought represented the different types of weather and worked as a team to perform them.
Mr Wolf came to visit Parley. He played in the sandpit and helped Mrs Flynn in the office!!
Welcome to Year 1!
The children are settling in to school life quickly and are eager to learn!
Our topic for the first half of term is 'Mr Wolf's Week'. Within this topic we will be studying weather patterns and changes connected to the seasons. We will be investigating how to measure using rain gauges and designing our own kites. Literacy and Maths will be taught wherever possible in a cross curricular approach.
After half term the topic will be 'Whizz, Bang, Pop!' where we will be studying events in history with close links to art and music. Further details of our curriculum can be found on this page.
Reading
Your child has a learning log in their book bags to record their reading achievements. One of the main focuses in year 1 is for them to learn Phase 3 and 5 phonemes (sounds). There is a copy of these sounds in the middle of the learning log to enable you to support your child in learning them.
Your children have the opportunity to change their reading books as and when they need to during our Early Bird sessions. We encourage them to choose their own books, as we want to foster a genuine love of reading. We would also like to encourage your child to join the local library. It is a brilliant way for them to develop reading skills, learn about different genres and take part in reading activities and games.
Home Learning
In order to encourage your child to become more independent in their learning, we offer a range of home learning activities that are relevant to the topics we are covering. At the beginning of each term we will publish the activities on the website, with a date for the children to complete it by. These activities do not need to be completed every week, and not everything needs to be brought in to school. We hold celebration mornings where the children can look at each other's home learning and see how different people have presented their learning. If your child does something they are really proud of at home please feel free to let them bring it in to show the class.
We would like to bring to your attention our plans for a Year 1 school visit to Honeybrook Farm in June 2016, as part of our learning about life and living processes. Details of this visit, along with costings will be sent to you later in the term.
We value your partnership with you very much. If you have any queries please do come and see us at the end of the day.
Mrs Nesbitt Mrs Hawker