Welcome to our Year 1 Page !
Class of 2016/17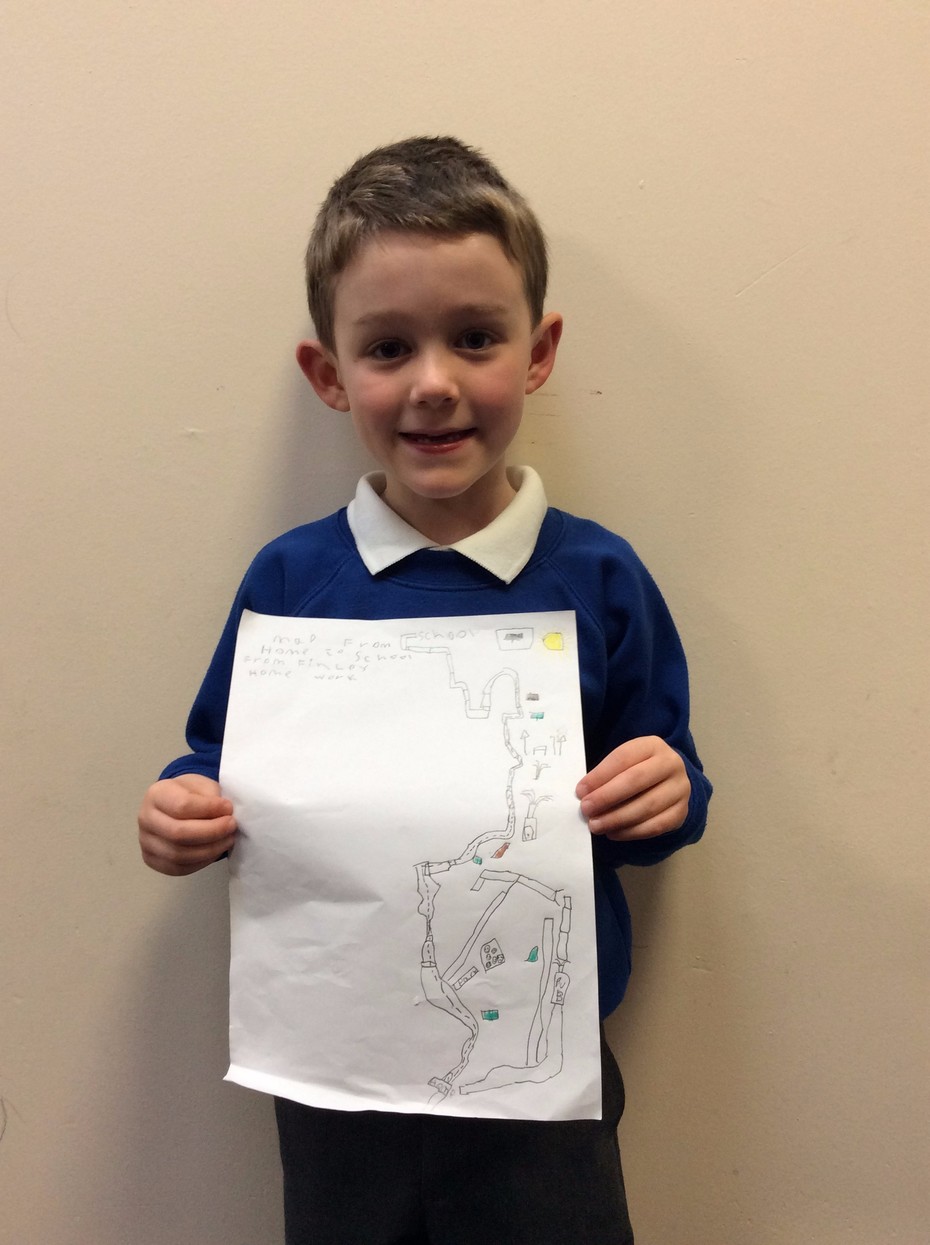 Spring Term Home Learning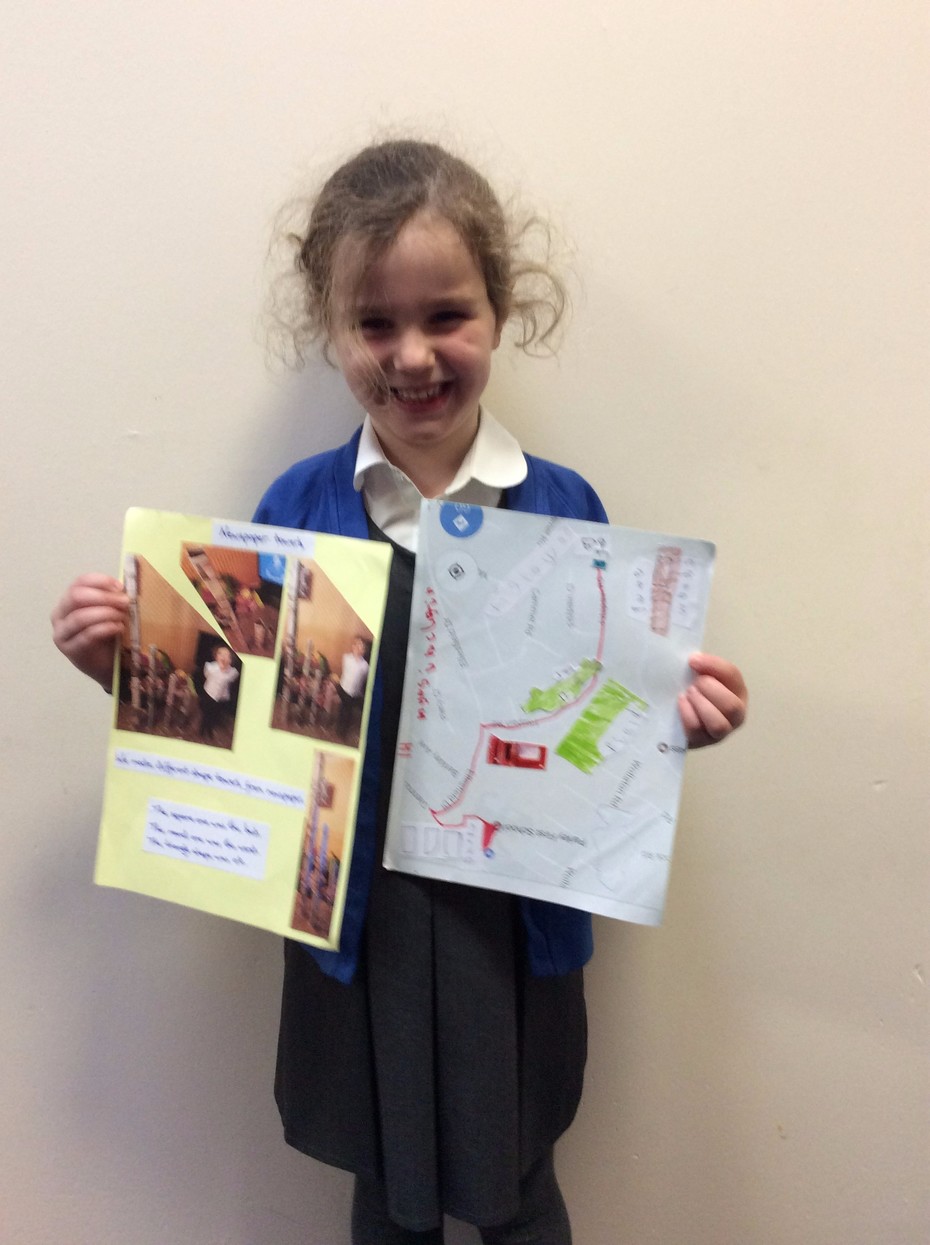 We all brought in some Home learning that we were proud of and shared it within our year base.
Some of us chose to make models, draw maps and made up our own real and monster words.
Easter Egg Hunt
Thank you to POPS for your generous donation of yummy Easter Eggs for our Egg Hunt!
Spring term Bubble Topic
We found out that bubbles can be all shapes and sizes from the start, but then they try to become a sphere. We used adjectives to describe them and wrote our own fantasy stories about a magic pot of bubbles.
Converting media.
(Media will continue converting in the background)
Making Music
We love making music in Year 1! To celebrate Chinese New Year, we composed our own music using lots of different instruments. We talked about how the music made us feel, and how we felt being part of a musical band. We hope you like it!
Three Little Pigs
We have been asking lots of questions in our topic of traditional tales. Could a gingerbread man really jump out of an oven and run down the road? Is it possible for a beanstalk to grow up into the clouds? Could a wolf really blow down a house made of straw or sticks? We have been investigating…watch out for the 'wolf-dryer'!!!
Ice Decorations
We have made the most of our frosty weather to investigate ice. In our groups we made ice decorations by putting small flowers, sticks and leaves into a pot and then adding water. After a night in the freezer they were ready to hang up. We put them in different places when we got to school in the morning and then observed what happened to them throughout the day.
We also put water and food colouring into balloons and froze them too. The patterns inside the ice were amazing!
Autumn Term Home Learning
We found out lots of facts about our topics by talking to each other in our home learning celebration. We also had great fun looking at all the different ways we could represent our ideas.
Practical Problem Solving
There are 10 children holding the parachute.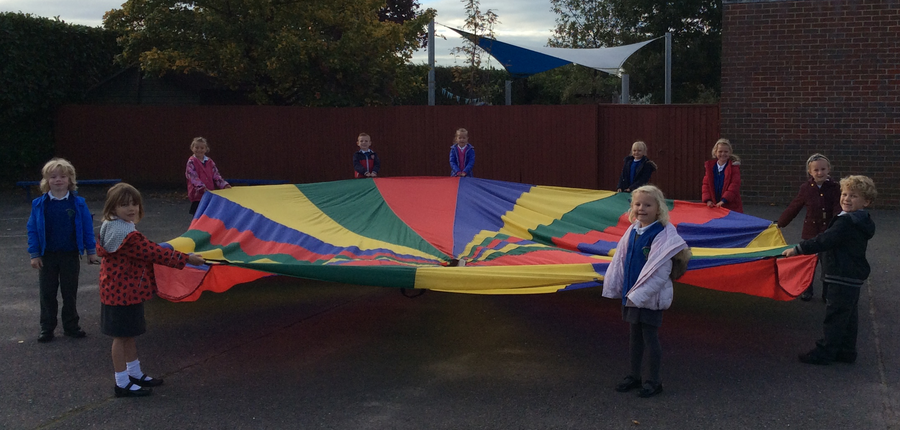 Now you can only see 5 children! How many children are hiding under the parachute?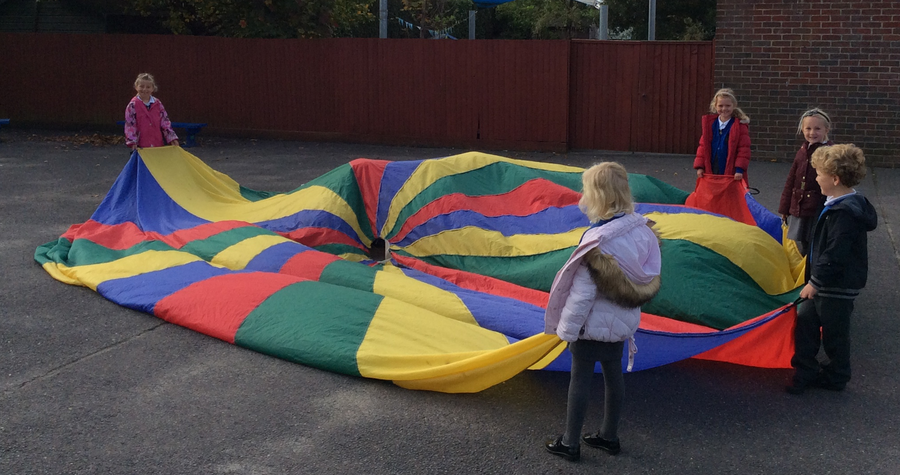 The children working on this diagram ran out of time! Can you think of a way to complete it so that it makes sense? What could the part numbers be if the whole number is 10?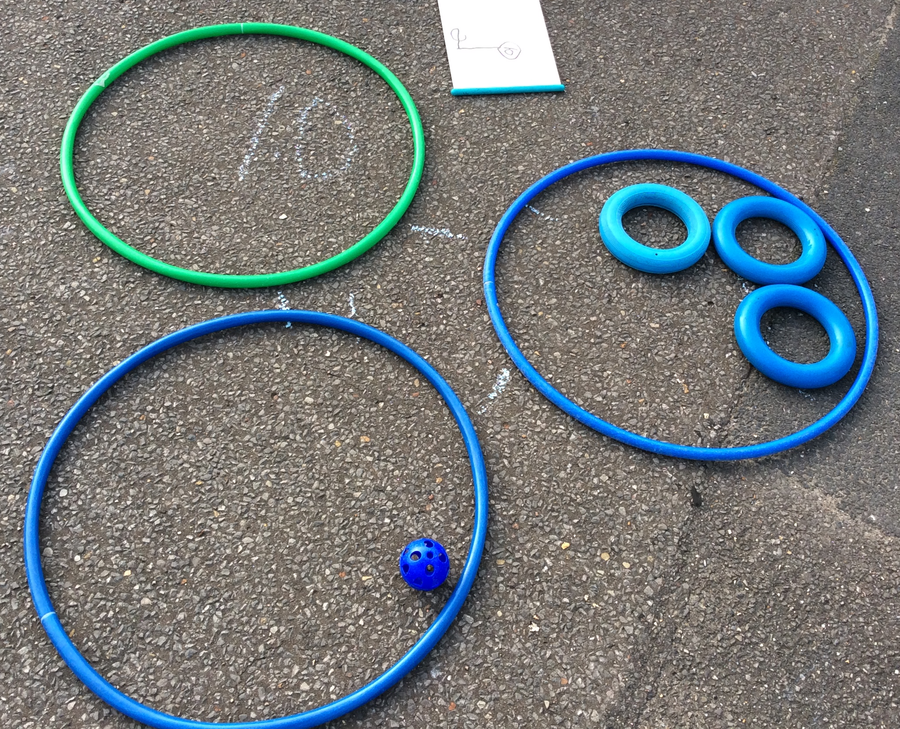 Marvellous Maths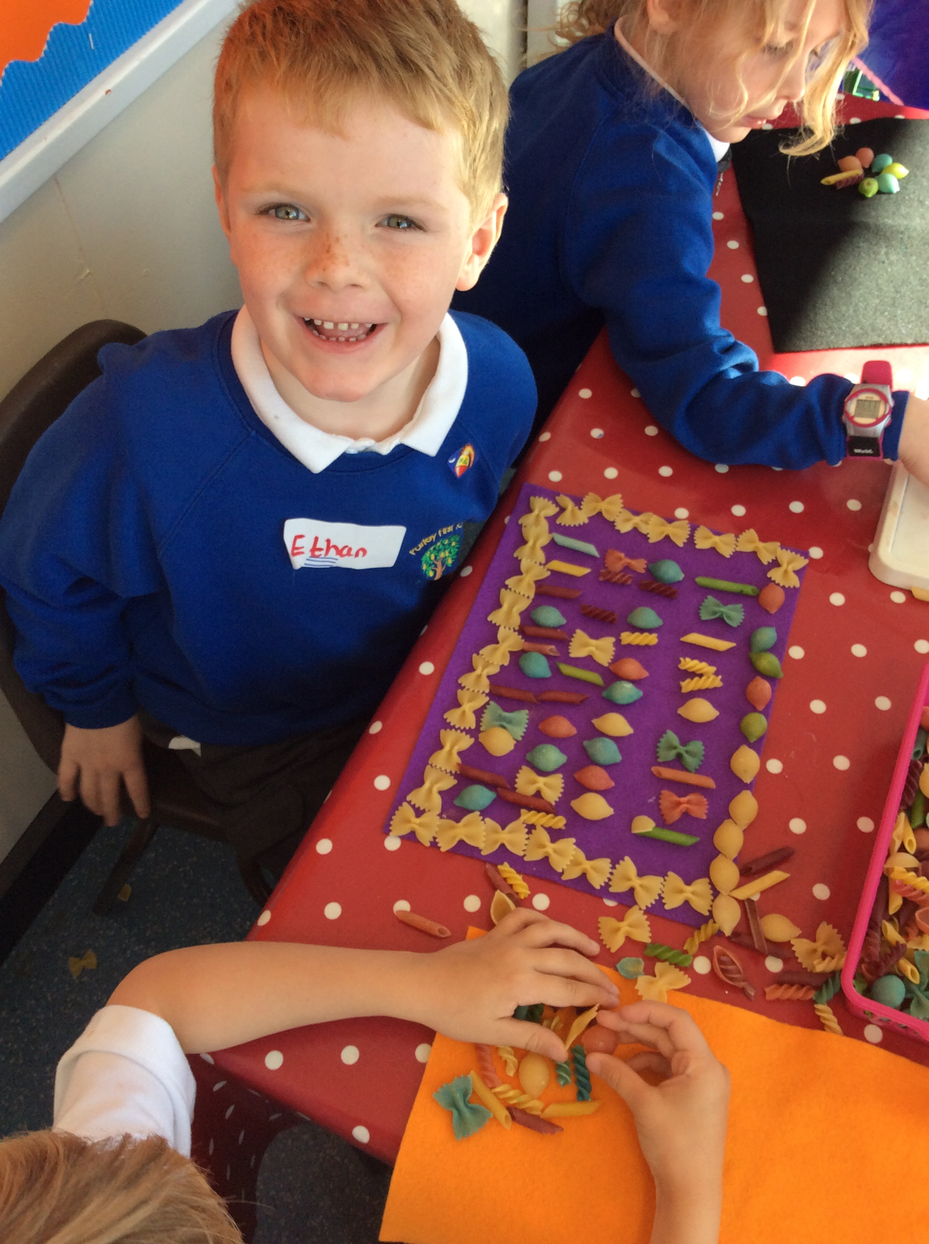 In our maths lessons we have been learning about how to spot similarities and differences. We looked at the shape and colour of the pasta and used it to sort and make patterns.
We have also been learning about whole and part numbers in lots of exciting ways!
Learning About Weather
This term we have been learning about the weather. We check every day to see what the weather is like, and what clothes we need to wear. In our literacy lessons we have been learning about adjectives, and we all went outside to think of as many adjectives as we could to describe a rainy day.
Mr Wolf's Visit to School
In the story of Mr Wolf's Week we found out that the weather changes all the time. We wrote letters to Mr Wolf telling him what the weather is like in Parley. He liked our letters so much that he came to visit us…but he didn't realise we had an Inset day! Here is what he got up to when the children weren't at school.
Please keep coming back to this page as photos of the children and their learning will be posted from time to time!
Welcome to Year 1!
We hope your children are excited to be in Year 1. They have all settled quickly into school life and are finding their way around and adapting to new routines with a smile!
Our topic for the first half of term is 'Mr Wolf's Week'. Within this topic we will be studying weather patterns and changes connected to the seasons. We will be investigating how to measure using rain gauges and designing our own kites. Literacy and Maths will be taught wherever possible in a cross curricular approach.
After half term the topic will be 'Whizz, Bang, Pop!' where we will be studying events in history with close links to art and music. Further details of our curriculum can be found by clicking on the curriculum map and timetable links at the top of this page.
Below are some reminders so that you can help us in the organisation of the school day:
We take part in PE lessons outside throughout the year. The weather can be quite cold so please could you ensure that your child has a warm outside PE kit (jumper, trousers, socks and trainers suitable for hard surfaces). For those children who are part of the football club at lunchtime, please could you ensure that they have appropriate kit (separate to their PE kit) and a plastic bag to store their muddy boots.
Your child has a learning log in their book bags to record their reading achievements. One of the main focuses in year 1 is for them to learn Phase 3 and 5 phonemes (sounds). There is a copy of these sounds in the middle of the learning log to enable you to support your child in learning them.
In order to encourage your child to become more independent in their learning, we offer a range of home learning activities that are relevant to the topics we are covering. At the beginning of each term we will publish the activities on the website, with a date for the children to complete it by. These activities do not need to be completed every week, and not everything needs to be brought in to school. We hold celebration mornings where the children can look at each other's home learning and see how different people have presented their learning. If your child does something they are really proud of at home please feel free to let them bring it in to show the class.
Your child will also need the following items in school every day:
1. Book bag, reading books and reading log.
2. Fruit or vegetable snack for morning break.
3. Bottle of water only to drink throughout the day. We allow the children to get a drink whenever they need to, and although juice or squash is permitted in lunch boxes, it is not advisable for the children to have sticky, sugary drinks in the classroom as they can attract ants, spoil classroom resources and stain the carpet if spilled.
Your children have the opportunity to change their reading books as and when they need to during our Early Bird sessions. We encourage them to choose their own books, as we want to foster a genuine love of reading. We would also like to encourage your child to join the local library. It is a brilliant way for them to develop reading skills, learn about different genres and take part in reading activities and games.
We would like to bring to your attention our plans for a Year 1 school visit to Honeybrook Farm in June 2017, as part of our learning about life and living processes. Details of this visit, along with costings will be sent to you later in the term.
We value your partnership with you very much. If you have any queries please do come and see us at the end of the day.
Mrs Nesbitt Mrs Hawker