Welcome to our Year 4 Page !
CLASS OF 2016/17
Year 4 Athletics Tournament, Kings Park, Bournemouth
Josh, Marcus, Finley, Lucas, Elsie, Cerys, Annabel and Lucy Arabella in Year 4 represented Parley First School at the East Dorset Athletics Tournament at Kings Park on Wednesday 21.6.17.
Lucy Arabella and Annabel ran in the 60 m girls sprint and Lucy Arabella got through to the final 8. Josh, Lucas and Finley ran in the boys 60m sprint. Lucas and Josh got through to the finals and Joshua won the event overall! He went through to represent East Dorset schools in the Dorset County Finals on July 7th and came second. Well done, Josh!
Elsie and Cerys ran in the 300m long distance and Elsie came first! Congratulations, Elsie!
Marcus and Finley represented the boys in this event.
In the throwing event, Annabel represented the boys and Marcus and Josh the boys. Josh came second - well done!
In the long jump event, Lucas represented the boys and Cerys the girls .
The morning finished with an inter-school, combined girls and boys relay race and Parley came 3rd.
Well done to everyone for showing great teamwork, sportsmanship and highlighting individual, hidden skills.
Leavers Assembly ..... a few highlights!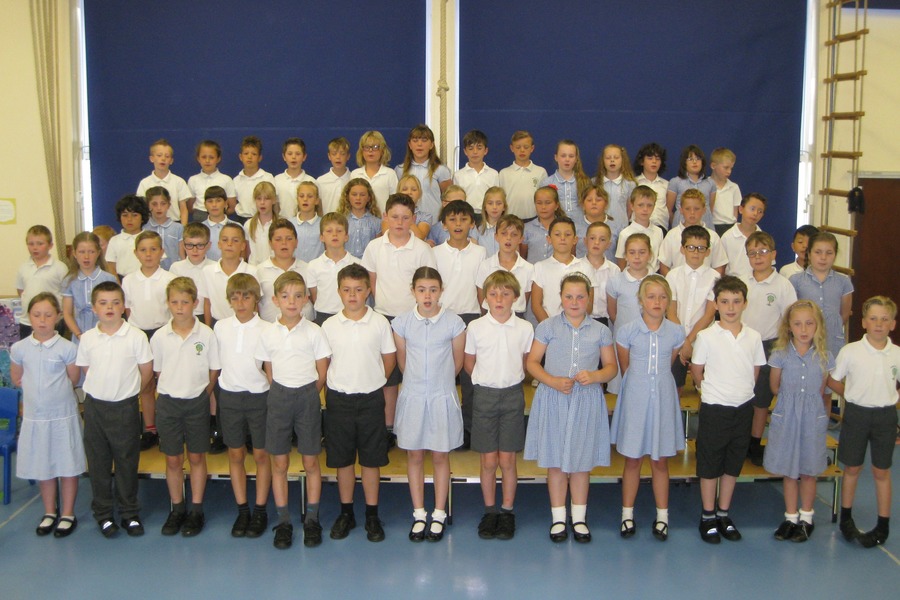 Election Time!
Year 4 held their own General Election on Thursday! We set up a polling station, gave them child-friendly manifestos, gave them ballot papers, set up the guided reading cubbyholes as booths complete with pencils on a string and let them vote!!!! The staff stayed completely neutral and didn't give any opinions whatsoever! They absolutely loved it and we told them the result on Friday morning!
There was such a buzz - they made more informed decisions than some adults! A heartening morning and message of hope for the future and the planet with a landslide majority for the Green Party! We are very proud of them!
The 58 votes were cast as follows: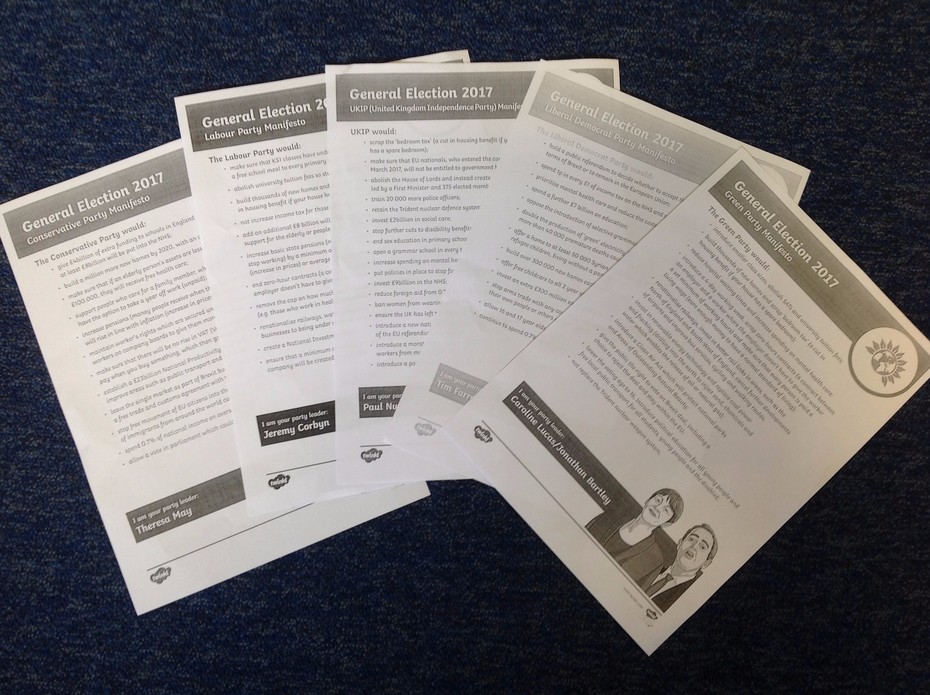 Green – 35
Labour – 10
Conservative – 8
Lib/Dem – 4
UKIP - 1
The Ice Mystery!
Year 4 are learning about States of Matter so we have been carrying out experiments with ice! We knew the temperature one night was going to fall below 0°C which is when liquid water turns to solid ice, so we filled up some balloons with coloured water and left them in different places – some sheltered and some exposed to see if they would freeze. We also put some tiny leaves and objects into paint-tray cells with a loop of string, and filled them with water to see if they would freeze into ice-discs. However, when we checked them in the morning, every cell had no water … or ice but all the natural objects and strings were still in place! We thought maybe they had been spilt, or bird had drunk all the water, or there had been a crack in the tray, but that did not explain why none of the contents or strings had been spilt or moved or why every cell was empty…?! It was too cold to evaporate so where did the water go?! We think we have now worked it out…..but can you?!
Egyptian Week - 14th to 18th November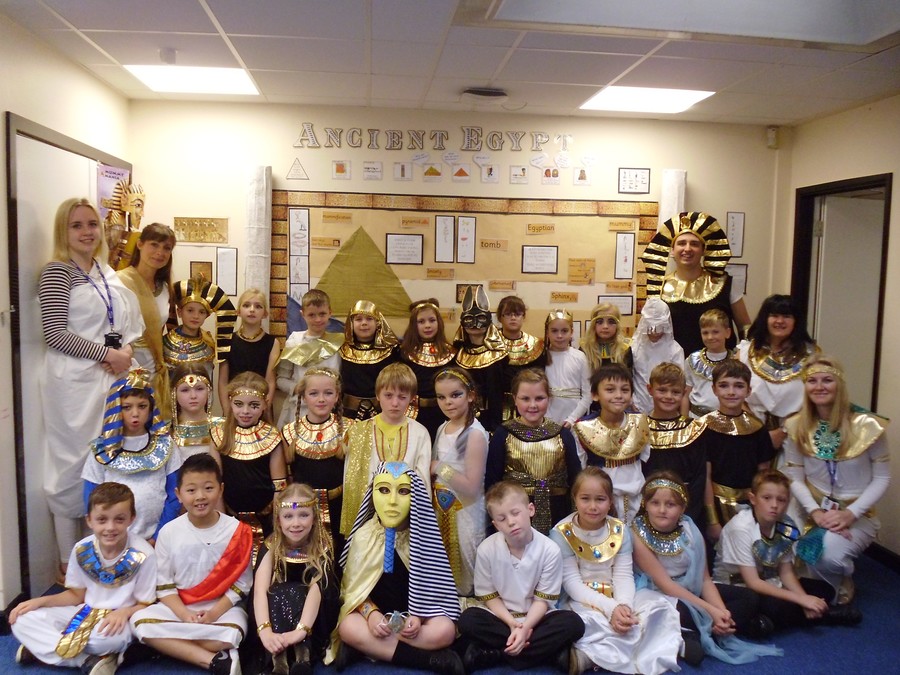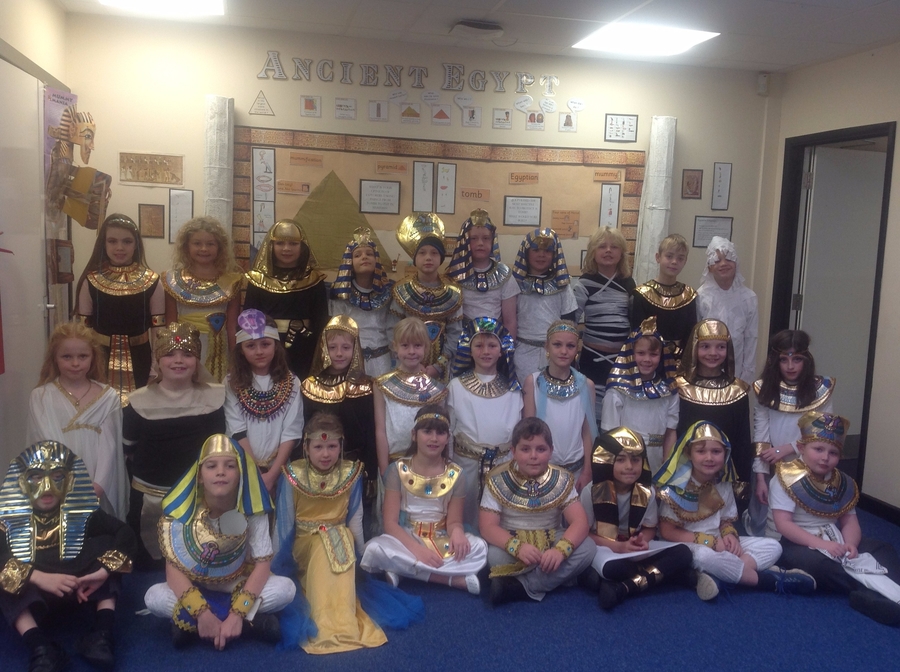 4R - Extended Sentences
Adding adjectives, adverbs, connectives and conjunctions to a 5 word sentence, to make the longest sentence in the world….!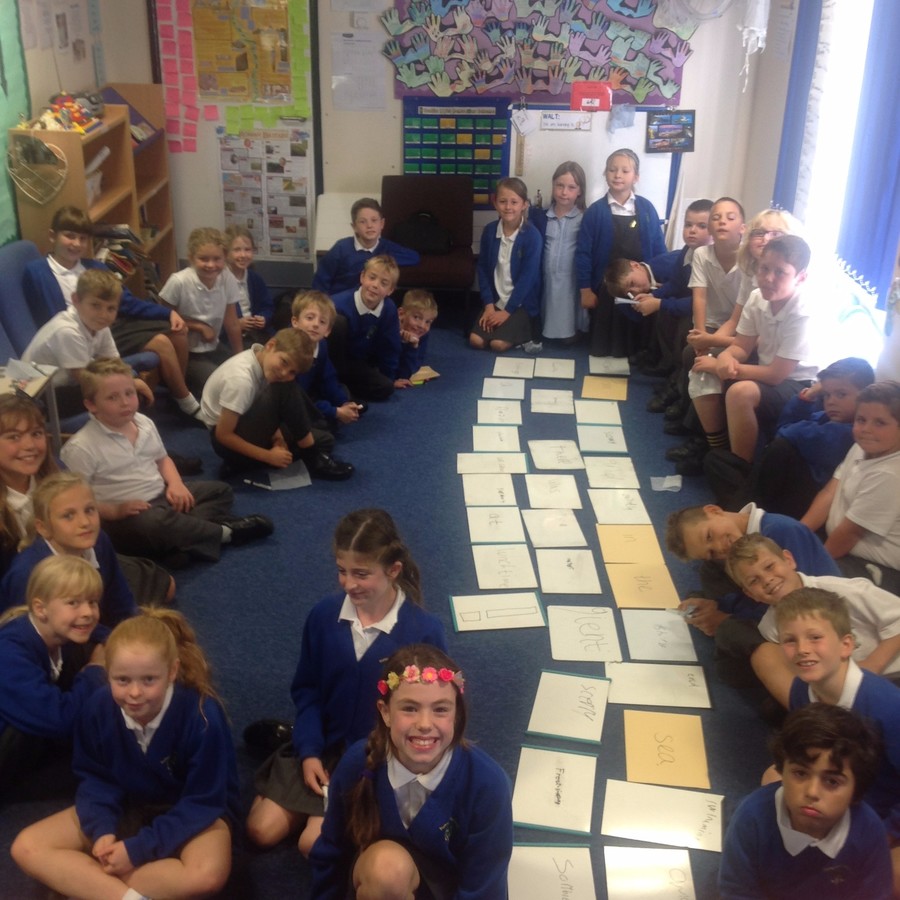 Game of Nim
The children in Year 4 playing the 'Game of Nim' in Outdoor Curriculum/Maths. The children had to find 20 natural objects, then take turns to take either 1,2,3 of the objects away. The loser is the one that is forced to take the last object! The children discussed strategies and ways to trap the opponent.
The children in Year 4 were doing 'Natural Algebra' in Maths. They had to create problems and solve each other's using natural objects to replace the numbers.

Please keep coming back to this page as photos of the children and their learning will be posted from time to time!
Welcome to Year 4!
We are excited to start a fresh new year with your children and support them in their final year at Parley First School.
Our topics are:
Autumn term - 'Ancient Egyptians'
Spring term - 'Romans'
Summer term - 'Water'
These will be linked with other subject in the National Curriculum to make the learning as cross-curricular as possible. A timetable and curriculum map showing our overview of the year are also available on the school website.
During the week of 14th November 2016, we will be having our topic themed 'Egyptian' Week. If we receive sufficient funds, we hope to be taking the children on a trip to the 'Tutankhamun Exhibition' at the museum in Dorchester on Thursday 17th November 2016. Further details will follow separately regarding the trip and prices, etc. Although the children will be dressing up for Egyptian week, they will not need to dress up on the day of the trip as we cannot guarantee good weather!
An 'Osmington Information evening' has been arranged for Monday 10th October at 5.30pm. This will give you more information on what the children will be doing, what they will need to bring and it will give you a chance to ask any questions about the trip.
Now that your children are in Year 4, we aim to give them more independence and we ask you to support this by encouraging them to carry their own belongings across the playground and say goodbye at the fence.
Many children have taken on monitor jobs and responsibilities around the school and these will be reviewed and rotated regularly so that the same children are not missing their own playtimes too much!
Spellings will be part of our daily SPaG (Spelling, Punctuation and Grammar) sessions. Some spellings that your child is working on may be sent home in their diaries. Please encourage your children to continue to practise these in order to improve their writing, but they will not be tested in school. Practising times tables is also encouraged as this will greatly support their learning in school.
Throughout the coming year, there will be plenty of opportunities for the children to meet and mix with the staff and children of Ferndown Middle School in preparation for their transition next September. This is an important year preparing the children for Year 5 and we therefore expect an increased awareness of presentation in their work, attitudes to learning and general behaviour.
This year we are trialling a more effective method of home learning in preparation for a more independent and self-motivated approach to learning in Year 5. Research has shown that random weekly home works are not necessarily always effective and can put a strain on the family life at evenings and weekends, especially when children attend other clubs and activities.
Consequently we will be focusing on times tables, reading, possible topic based research, editing a piece of writing, spellings and occasionally, if necessary, any work from a lesson that has not been finished within a reasonable expected time. This is to encourage a work life balance for the whole family and we would rather you chat to your child, in depth about their learning as this would further consolidate their understanding.
We value our partnership with you very much. Should you have any queries or worries please feel free to speak with us at the end of the school day.
Miss Roche Mr Perry