Highmead Farm Trip
This week we have enjoyed our trip to Highmead Farm. We fed the chickens, learnt how to pick them up and collected their eggs. Then we rounded up the ducks and stroked the goats. Some of us stroked a pig and we were even allowed to fill up their mud bath with water. The rabbits were a little shy but we managed a quick cuddle. Eventually we had our lunch. We had waited all morning for it!!!!!!!! After lunch, we visited the poly tunnels and tasted some of the beans and strawberries. Then we planted pumpkin plants ready for the autumn. We loved being with all our friends at the farm.
Cycle to School Week
This week it has been Cycle to School week. The class that has the most children cycling or scooting each day gets a chance to scoot and cycle in the playground. Reception were the first winners!
On Tuesday it was also Smoothie day! We helped to make a smoothie by turning the pedals around on the bike. Some of us liked the taste of the smoothie (melon, banana, apple and apple juice) and some of us didn't but at least we tried it!!!
Dinosaurs
This week in Reception we have been explorers. Strange noises had been heard on the field over the weekend so we decided to investigate. Immediately we found footprints and decided to follow them up to the top of the field. We saw a ripped football. Maybe the dinosaur had sharp claws. In the woods we found a nest of dinosaur eggs! We called Mrs Leaper's friend, Ross Geller, who is a Palaeontologist and he said it would be ok for us to look after them. We are using his special Hatching Potion and are waiting to see what happens!!!
Visit from the Bee Lady
We were visited by 'Totty the Bee Lady'. We learnt all about bees and pollination. We even got to help Winnie the Pooh by collecting pollen from the paper plate flowers we made. At the end, we tasted Totty's honey. Owen said, "It tastes like the inside of fudge." It was delicious!
Stay and Share
Our Reception base was buzzing when parents and grandparents came to see what we have been learning. The children were so excited to show off their classrooms and we even had some younger brothers and sisters who showed an interest in our activities too!
Easter Egg Hunt
Reception were worried that there wouldn't be an Easter Egg Hunt because of the rain, but we found eggs hidden in the hall instead. The children had to look under, on top of, behind, next to and inside places to find an egg for them to take home. It was very exciting!
Aviation Museum Trip
Reception had a great time visiting the Bournemouth Aviation Museum. They climbed on buses, fire engines and into different planes and even a rescue helicopter. There were lots and lots of different buttons and levers, with many different dials of numbers.
Pancake Week!
This week the children and staff have been very happy as it has been Pancake week! The children have enjoyed making batter, cooking and flipping pancakes and then choosing a topping before eating their pancake. They have been writing instructions for how to make a pancake and have even enjoyed pancake races in the sunshine.
Chinese New Year
We have been learning about how Chinese people celebrate their new year. This year is the year of the dog. We found out that we were born in either the year of the dragon or the year of the snake. We made lanterns and dragons out of paper and looked at some Chinese clothes. We also listened to Chinese music and worked together to create life-size Chinese dragons to move to the music.
Outdoor Learning
In Reception, we have been learning about 2D shapes. We have talked about their names and properties. Then in outdoor learning, we collected sticks and stones and used them to build the 2D shapes.
Africa
This week we have been learning about Africa. Africa is a hot continent, with lots of countries in it. We coloured some flags, we tasted some fruits and we tried to make African huts. We also listened to some African drumming and tried to play drums ourselves.
The Reception staff would like to wish all their Reception families a very happy and restful Christmas. The children have learnt so much this term and we are really proud of them all. We look forward to seeing everyone back on 2nd January 2018.
Christmas Party
Reception had a great time at their first Christmas Party at Parley. They helped Mr Bagwell to juggle and played lots of games, including Musical Statues (with Mr Bagwell trying to make them move), Musical Laps (a twist on Musical Chairs), Knights, Monks and Good Friends and Pass the Parcel. Everyone had a great time and Joe said 'This is the greatest party I have ever been to'. It was a lovely way to celebrate the end of their first term as Parley learners.
Autumn Scavenger Hunt
We have loved going on an Autumn scavenger hunt. We worked with a partner to find all the things on a list then we collected them in a bag ready to take back to the classroom. We found acorns, different shaped leaves and horse chestnuts.
Lemur Landings
Even though we have only just started school, we have already been on a school trip! We had a great time at Lemur Landings, playing with our new friends and trying to be brave on the climbing walls. It was great fun and we would like to thank the extra grown-ups who came with us to help to keep us safe.
Our School Grounds
We went for a walk around our school grounds. We have a lovely, big field, a pond and a wood. We found lots of conkers and learnt how to put our welly boots on.
People who help us
We have been learning all about people who help us. There are lots of people that help us in school – with our learning, in the office and at lunchtime. We even have some Year 4 children who help us at playtimes.
We have also been learning about people who helps us outside of school, such as doctors, nurses, dentists, the police, vets and firefighters. We had visits from some firefighters. It was great fun when we were allowed to squirt the water.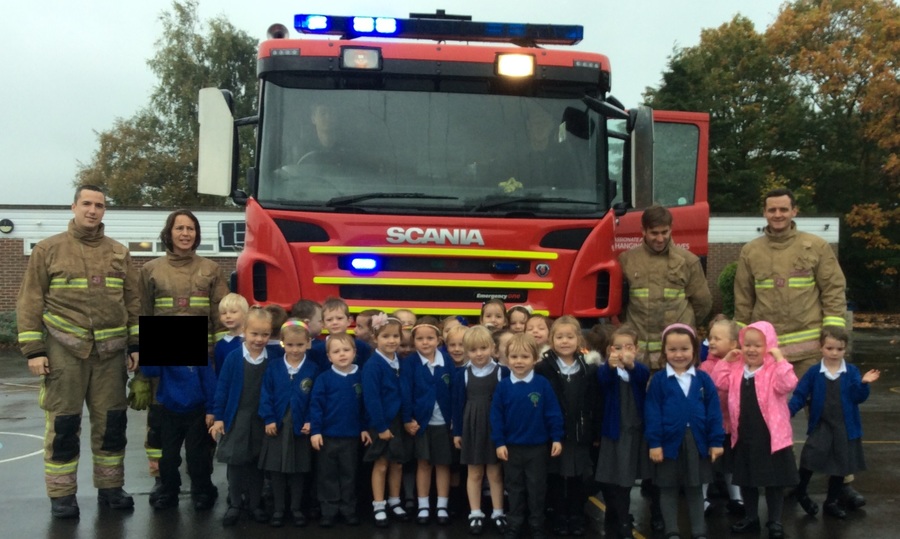 Our First Week at School
We have settled in well to our new Reception classes. We have been learning the names of our new friends and where we need to put things away in our classrooms.
Home Learning Samples
Here are some samples of what you could do with your Reception children to support them with their sounds that they are learning at school. The children can draw or cut and stick pictures and photographs in and either practise writing the letter shape or write labels for their pictures.
L&S sample 1.pdf L&S sample 2.pdf L&S sample 3.pdf
Please keep coming back to this page as photos of the children and their learning will be posted from time to time!
Welcome to Reception!
In Reception we are very excited to be starting our learning journey at Parley First School. Our classes are called RW and RF. Our learning this term is 'All About Me!' and we will be learning about ourselves and people who help us. We will be reading, writing, counting, painting, singing, playing, making lots of new friends and many other exciting things.
We look forward to sharing our photos on this page so that you can see what we have been doing.
Mrs French Mrs Wyatt-Jones