Welcome to our Year 3 Page !
Class of 2018/19
Parley Symphony 'Air' Orchestra
As a thankyou to the BSO, Year 3 performed 'Sprach Zarathustra' by Strauss.
The BSO were so impressed they Twitted our video!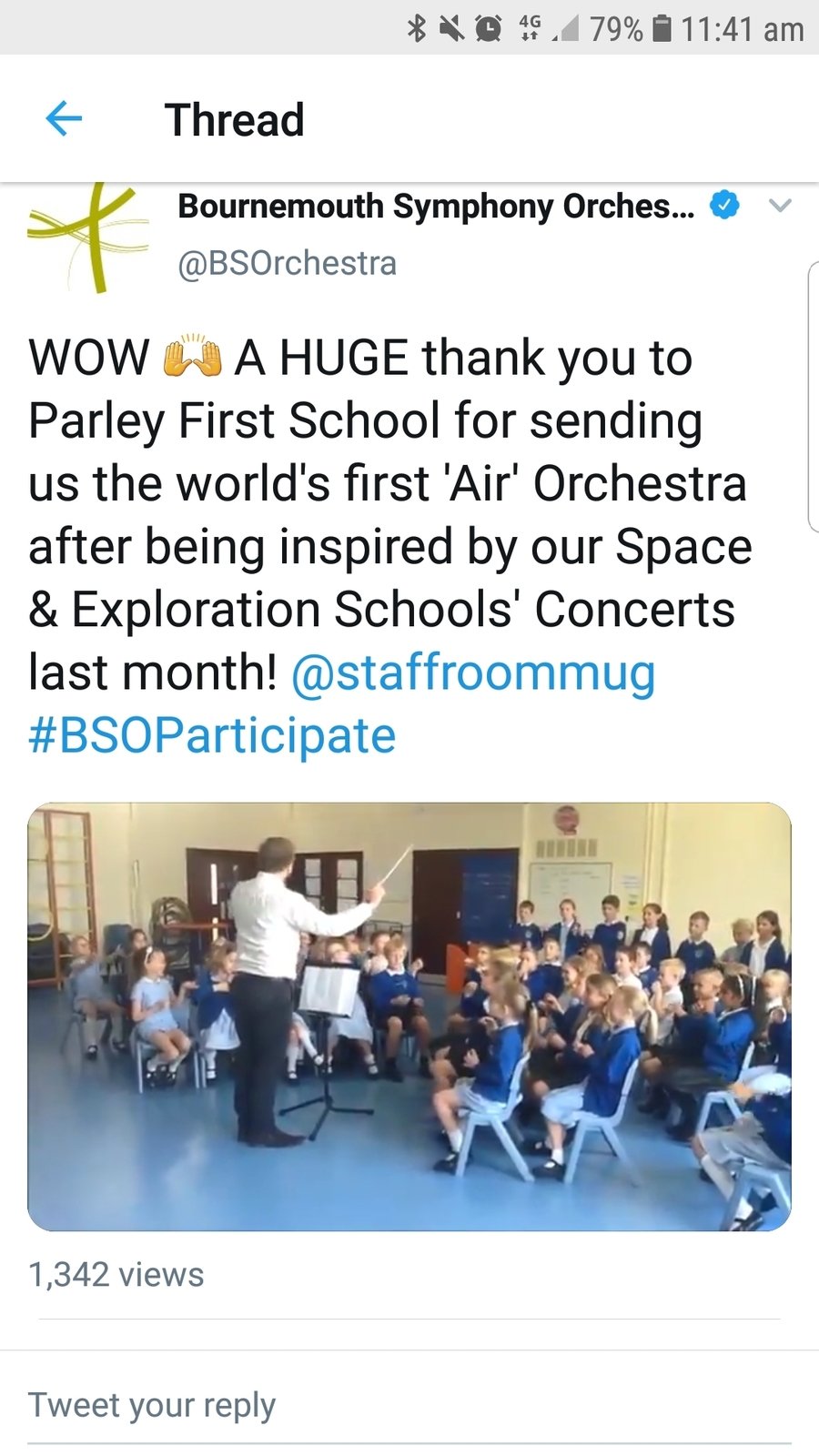 A musical Thankyou to Mr. Brown
"Mr Brown is the best!" from Daisy.
"I really hope you enjoyed it." from Amy O.
"Because we will miss Mr Brown" from Freya.
"Because we love Mr Brown and he is the best teacher in the school." From Ava.
"Mr Brown - you rock!" from Livvy.
"We did it because we were inspired in music by Mr Brown" From George.
Survival Day
Year 3 had an amazing day making and cooking Damper bread over a fire, toasting marshmallows and making them into S'mores, (which true to their name, were so tasty, they wanted s'more…!!)
They also created shelters in the woods and took part in an 'archaeological dig'………digging up artefacts from who knows when…..!!
A wonderful day, eating well and having fun in the great outdoors!
Space Week
Year 3 have had an amazing week, learning all about space. They measured each other for their space suits, made rocket fuel, made and launched their own rockets and even had a visit from a real rocket scientist! They also had took part in some 'So you think you could be an astronaut?' tests to see if they had what it takes! Thankyou to everyone for your amazing costumes.
Year 3 Trip to Winchester Science Centre
Year 3 spent the day exploring the the interactive science and technology centre and finished their day with a visit to the largest standalone planetarium in the UK to experience our solar system up close!
WWII Week
Year 3 took part in a variety of activities while learning about World War II. They learned about what it was like to be an evacuee, they baked war time recipes, created Powerpoint presentations to share with the class, perfected their morse code techniques and made old clothes into other things!
The week was rounded off with some visitors who came to share their own experiences/memories of what is was like during WWII. The children sung war time songs while our visitors had tea.
RSPB Visit
Year 3 had fun taking part in a 'Bio-Blitz' with Alison from the RSBP. We looked for wildlife around the school grounds and ticked them off on an ID sheet. We also looked for signs that wildlife had been there previously and found evidence like cobwebs, nests, holes in leaves and even bird poo!
We found wildlife everywhere – even a cute wood mouse under a pile of wooden planks!
Wizarding Times Tables
Congratulations to our wonderful wizards in 3B who received their certificates from Hogwarts this week for knowing their 2,3,4 and 8 times tables.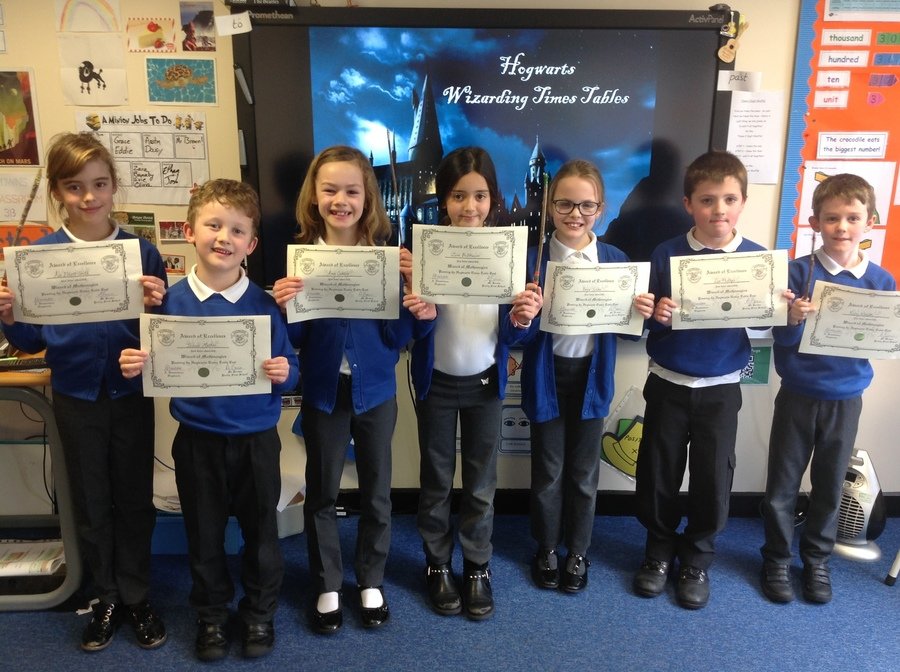 World Book Day
We celebrated World Book Day by coming to school dressed as our favourite book characters. We also visited other year groups to share some stories and swapped our unwanted books for new ones in a 'Book Swap'.
Presenting our 'Art Gallery'
Art
We have been working hard with our Pop or Op topic, learning essential skills in the run up to our final piece of art! We have looked at colour wheels and how they work, as well as discovering about the work of Andy Warhol and Bridget Riley.
Samba
We have had great fun starting Samba in Year 3. Pete our Samba teacher has already taught us lots of exciting rhythms and Mr Brown has been joining in also! We have also had the opportunity to play a variety of different samba instruments during our lessons.
Outdoor Curriculum - DT - Stable Structures
We looked at photos of real life towers and skyscrapers and realised that not all towers are wider at the bottom! We found out that to be stable, they had to be the perfectly straight all the way up!
First we practised by creating a tower using pencils. Then we had to collect straight sticks of equal length and thickness (about as thin as a pencil and as long as a ruler) and stack them in layers of alternate pairs exactly over the previous layer to create the highest tower.
(The tallest/most stable, were the 'neatest' and straightest ones where you can see a perfect square all the way down the middle!)
We had such fun doing this and made taller towers than we expected!
Outdoor Curriculum
We discussed the science of leaf colours (pigments) and how they change over the seasons. We know that the green (chlorophyll) gets re-absorbed by deciduous trees in autumn, so that the tree can preserve energy and water over the winter. As this happens the leaves turn from green to yellow, orange, red, brown and finally a dry crispy brown.
We then collected leaves in a range of colours that blend from one to another to create a 'Life cycle of a leaf'.
We mixed primary colour paints with black to make shades and white to make tints so that we could try to colour-match the beautiful autumn colours from nature outside.
Welcome to Year 3!
We are excited to start a fresh new year with your children and support them in their next year at Parley First School.
Our topics are:
Autumn term - 'Pop or Op' and 'Volcanoes'
Spring term - 'Turtles' and 'World War 2'
Summer term - 'Space' and The Stone Age'
These will be linked with other subjects in the National Curriculum to make the learning as cross-curricular as possible.
Below are some reminders so that you can help us in the organisation of the school day.
- It is very important that your child has their diary and reading book in school every day. In KS2, each child will have a drawer under their table. This will be used to keep their diaries, reading books and pens, pencils etc (provided by us). Children are welcome to bring in a small, thin, empty pencil case to keep these items in if they wish. They must fit easily in their draw and not contain other items such as felt tips etc. Book bags will no longer be kept in drawers, so these will need to be stored on pegs or inside a rucksack if one is absolutely necessary. Items such as hats and gloves etc must be kept on pegs and not in the drawers and areas for lunch boxes, snacks and drinks will be provided in the classroom.
- Children's PE kits should be in school at all times and all items must be clearly named. Long sleeves/track-suit bottoms will be needed when the weather gets colder.
- Children will need wellies as soon as possible and an old waterproof coat for Outdoor Curriculum. Children will not be allowed to take part on the field in their school shoes if it is muddy.
- Please remember to bring labelled fruit and drink (water only please) for snack-time.
- Lunch boxes should be clearly named on the outside and should not contain chocolate bars, nut products or sweets.
- For health and safety reasons please ensure that scooters and bikes are not ridden on the playground before or after school
- Wet weather packs: Your child needs to have a 'wet weather pack' in school for wet playtimes. This could consist of a colouring, dot-to-dot or puzzle book and some crayons or felt pens kept in a plastic wallet/folder, clearly named. If you have any queries about this please do not hesitate to ask.
- We do ask that your child does not bring in toys from home, (except for Golden Time on a Friday if they wish) but they must be small, inexpensive and non- electrical – so no plugs or batteries!
Home-learning in Year 3 will be in two parts.
The first is a menu style sheet that the children can choose from to complete during the course of the year. The second part has a focus on the regular practising of the 4 main areas that will help your child in school – Mental Maths, Reading, Spellings & Times tables.
These will be personal/individual to your child.
1:1 support/consolidation at home, in specific areas has been found to be much more effective with older children and can be done little and often. This reduces the strain on family life at evenings and weekends,( especially when children attend other clubs and activities,) and doesn't require a lot of adult creative support! This will encourage a work life balance for the whole family and chatting to your child in depth about their learning, will further consolidate their understanding.
Mental Maths
Every 3 weeks or so, we will send home a copy of your child's mental-maths test answer-sheet. Please go through a few incorrect answers with them and help them to find strategies to solve them quickly & in their heads! They need to understand that the questions are phrased in a variety of ways in order to test their understanding of maths vocabulary, but the actual maths is always something they have already covered. We keep a copy of each sheet and the score so there is no need to return them to school, or hand anything in; the idea is to provide individualised support and see their scores increase over time. As achallenge, you could even change the numbers of one that they got right to see if they really do now how to solve it!
Spellings will be part of our daily SPaG (Spelling, Punctuation and Grammar) sessions.
In addition to this, we will also be sending home weekly spellings personal to your child. This will be completed in the back of their Home Learning book on a certain day. In this, will be a sheet with highlighted words for your child to learn. They will then be tested the following week. When your child has successfully learnt a word, it will be ticked off and new spellings will be highlighted to learn. Look, Cover, Write, Check is a great way to practise their spellings and as a challenge, see if they can spell the word in a sentence!
Times tables practise will also greatly support their maths learning in school. Please focus on recalling random times tables in 3/5 seconds (no counting on fingers and not in order!) Challenge – children will be tested at school as part of the new Multiplication Minors Challange. For this, they will need to know their times tables, as well as being able to find a divison or missing number calculations. eg - 7 x 9 = __ ; 63 ÷ 7 = __ or 9 x ? = 63
Reading
Please continue to read with your child a few times a week and focus on talking about their understanding of what has just happened, not just reading the words. Your child will have a reading book from school but feel free to read/share/discuss texts from a variety of sources with them – it should be a pleasure! As a challenge, keep a dictionary nearby and encourage them to look up the meaning of new/unknown words.
We value our partnership with you very much. Should you have any queries or worries please feel free to speak to us at the end of the school day.
Miss Roche Mr Brown