Welcome to our Year 3 Page !
You will find all letters, important dates, topic information and photos for Reception classes here.
Please keep coming back to this page as photos of the children and their learning will be posted from time to time!
Key Dates

Year 3 Letters

Year Group

Information

F

riday 14th Feb 3.05pm

: Finish for half term

.
Clay volcanoes
To begin with we made a vent and magma chamber with card with and then used newspaper to create the shape of the volcano. We then used different techniques to mould the clay around the structure and add detail to the surface. We also tried to make them erupt – but that didn't go to plan!
Experimenting with colour
We experimented with shades and tones to make a pallet of colours which would be suitable for a watercolour painting of a volcano. We took inspiration from Turner who is a famous landscape watercolour artist.
Writing News Reports
We have been writing news reports in Literacy. We read a story about a volcanic eruption in Hawaii.
To collect quotes for our reports we thought of questions for people who would have been at the eruption. We then held a press conference to find out the answers. We had loads of fun getting into role.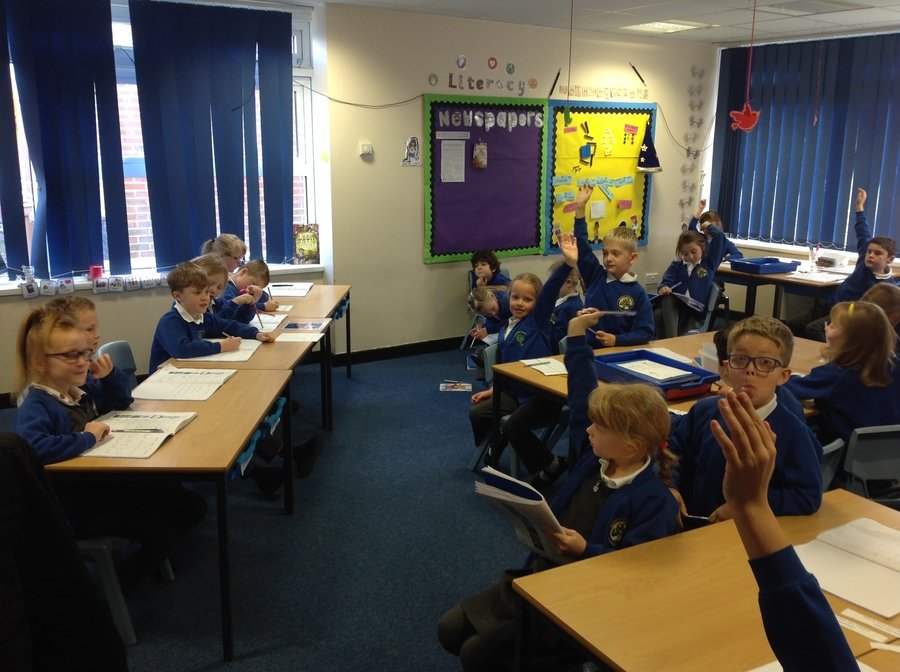 Properties of Rocks
In science we tested rocks to see what type of rock they were. We followed a flow chart which helped us categorise them by their properties. We checked to see if they were permeable, had crystals, were grainy or could be scratched. We then sorted them into two types of rock Sedimentary or Igneous.
We had a visit this week from The Book Bus
Violins
We have really enjoyed our Violin lessons, we have learnt the names of the notes, the parts of the violin d how to correctly hold and look after our instruments. We have been learning short tunes and have begun performing to the class with backing tracks. We can't wait to carry on next term.
Rangoli Patterns
We learnt about Diwali and the different ways that Hindu's celebrate. One way is making Rangoli patterns outside to encourage the god Lakshmi the god of good fortune to visit. We went outside and made our own Rangoli patterns as a team.
Instructions
We learnt how to create a piece of art then taught one of our peers from the other class how to produce it by giving clear instructions with imperative verbs.
Print Blocks
We created print blocks using spaghetti, glue and paint.
Magnets
In science and DT we have been learning about magnets we learnt about how magnets have a north and south pole and the terms attract and repel. We then used our new knowledge to make a magnetic product. We designed, made and evaluated either a bookmark, maze game or fishing rod game.
Welcome to Year 3!
Welcome back, we hope you all had a fantastic summer holiday.
We are very much looking forward to working with your children as they continue their learning journey at Parley. We will be encouraging the children to show self-organisation with their belongings and home learning and would appreciate your support with this. Now the children are in Year 3 they need to change home reading books during the school day and keep an ongoing record of this in their diaries.
Our topics this year will be:
Autumn – Pop and Op / It's Gonna' Blow!
Spring – Blue Planet / Lest We Forget
Summer – Space Explorers and Stones & Bones
In order to enhance and reinforce the children's learning we have planned a range of educational visits and experiences including:
Violin lessons
WWII Day
Winchester Science Trip
BSO Interactive Concert
Sports Events
Survival Day
We value your partnership with us very much. If you have any questions or queries please feel to speak to us at the end of the day.
Mr Compton & Miss Mansfield