Farewell to our Fabulous Five!
We would like to wish Mrs Strange, Miss Richards, Mr Wootton, Mrs Edkins and Mrs Hennessey all the very best as their time at Parley draws to a close.
We thank them for all their hard work and dedication to the school.
We will miss you all!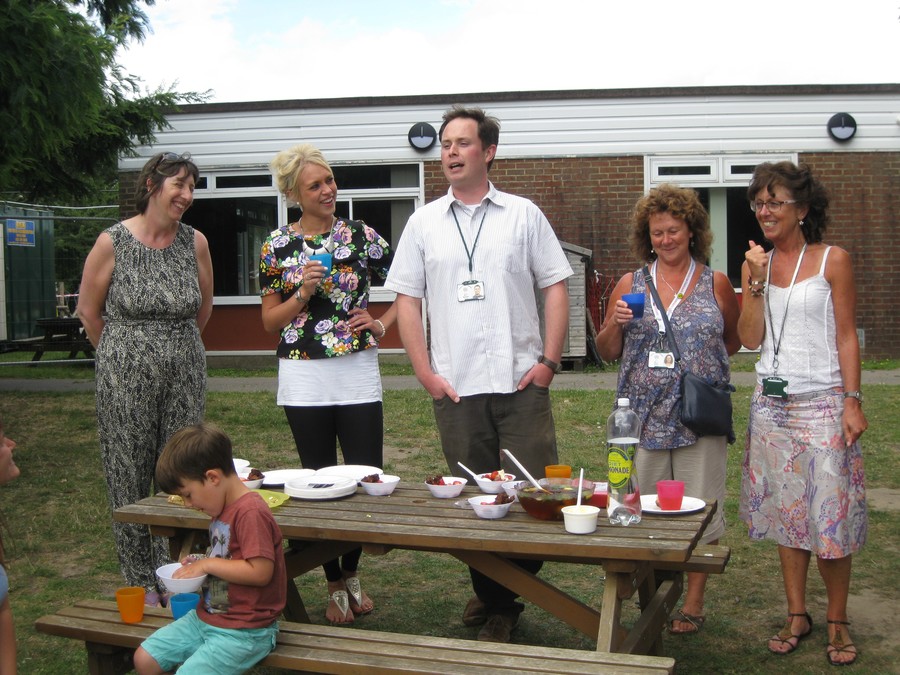 2014 Sainsbury's Dorset Summer School Games
This event was held on 2 July 2014 at Bryanston School, Blandford. Parley had a team of 10 players in the Golf finals. 16 schools took part in this event.
Parley played extremely well, putting, chipping, and controlling the ball , hitting cones, into 'tunnels', and onto other targets. Parley came 5th, which was a massive achievement. Well Done!
There were finals of many other sports (including volleyball, tennis, and horse jumping!) taking place on different areas of the huge fields at the same time, but Parley were only participating in the Golf.
There were other activities taking place in the 'Cultural Village', and the children could participate in these their 'rest breaks' and afterwards. These included DJ-ing, Freestyle Football (with expert tuition from Steve Gray (who is in the top 16 Freestylers in the country), whisking up ' fruit smoothies' by pedal power, trying out windsurfing and sailing (no water involved!), mini tri-athlon, and African Samba music. Probably one of the highlights was meeting Pete Waterfield, Olympic and Commonwealth medallist in Diving.
A memorable day was had by all.
Bling Your Bike Day
Children at Parley First School had a 'Bling Your Bike and Scooter' day today. The children were only allowed to use recycled objects, and some wonderful creations were ridden into school.
A giraffe, horse (complete with sound effects), several football themed bikes and scooters, aliens and space themes were just some of their creations. We are trying to encourage children to cycle or scoot to school rather than come by car, which promotes healthy lifestyles, a saving on fuel costs and therefore less exhaust pollution, but most of all - enjoyment!
The winners were chosen by Darren Orchard, our Sustrans Representative.
The photo shows the winning designs with their creators, along with Mr Bagwell - Head Teacher, Mrs Bingham - TA and Bike It Co-ordinator, and Darren Orchard, Sustrans Representative.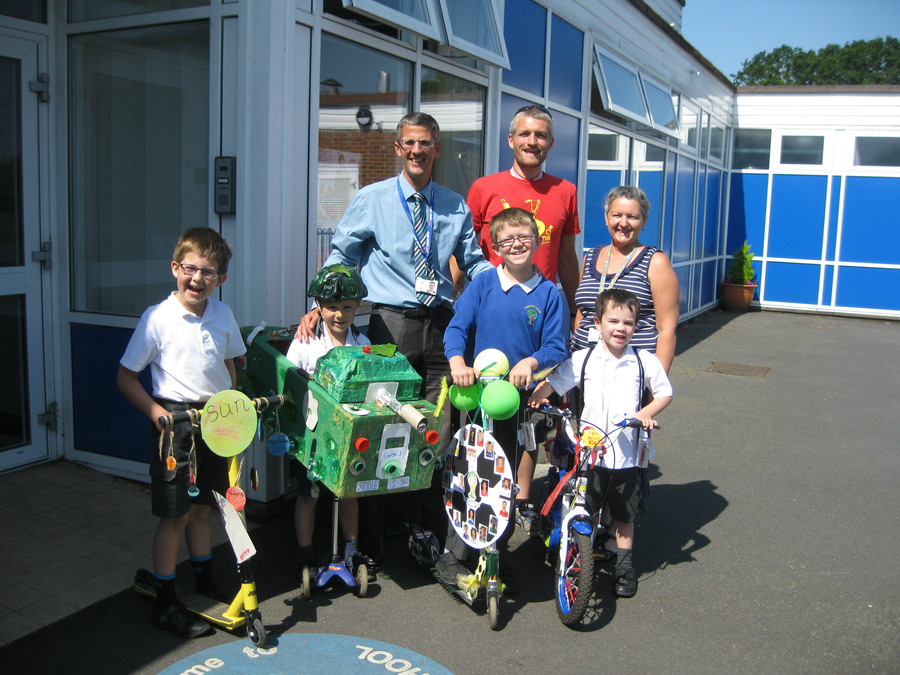 Year 3 and 4 Kwik Cricket Fun Afternoon with Charlotte Edwards - June 2014
Children from Parley First School had the wonderful opportunity of practising their cricket skills with Charlotte Edwards, the Captain of the England Ladies Team yesterday at Wimborne Cricket Club. Year 3 and 4 pupils batted and fielded with Charlotte, and had fun playing Kwik Cricket with a team from Wimborne First School. The afternoon was organised by The English Cricket Board and 'Chance to Shine', inspiring youngsters to take up the sport and join local clubs.
Year 3 and 4 - Mini Tennis Tournament - May 2014
Eco Council Litter Pick
On Friday 2nd May, the Eco-Council combined 'The Great Litter Count' with 'The Big Tidy Up' - a litter pick around our school grounds. Luckily there wasn't too much litter around and a lot of it was just small pieces of wrappers and packets. The hardest part of the The Great Litter Count, was identifying the brand names on little bits of wrapper! The children were very thorough and would have liked more time to search the whole field! The results have been updated to the 'Keep Britain Tidy' website and as this was a national campaign, this will go towards fulfilling the 'Litter' part of our next Eco-Flag renewal.
Arts Week and World Book Day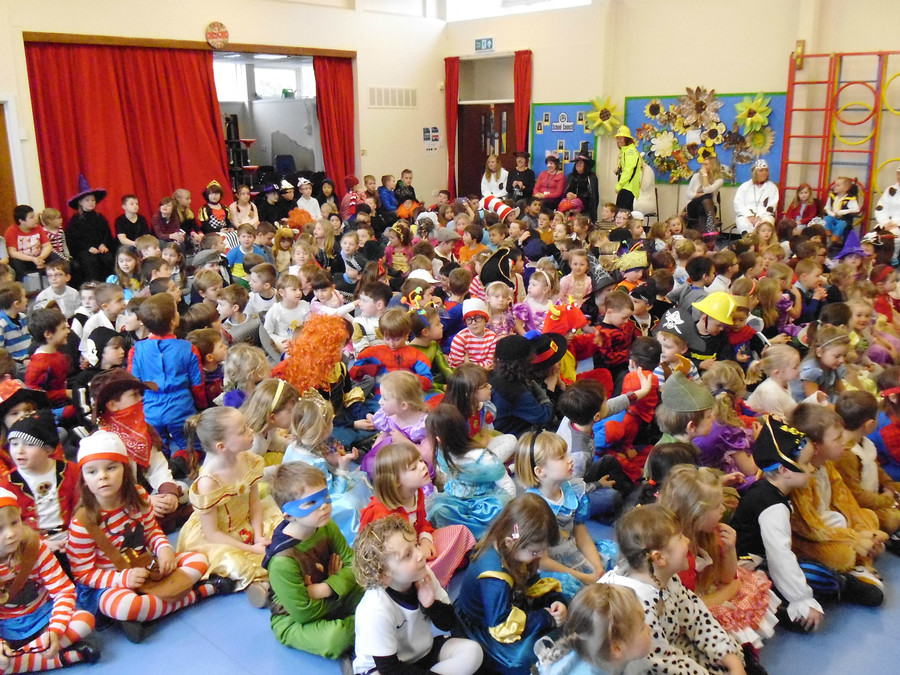 For more pictures and information on what each year group got up to during Arts and Book Week ....click here.
Chicks!
The Reception children (and adults) have been very excited to have had eggs hatching in their classroom. The whole school was able to watch chicks hatching via a webcam and there are certainly more visitors now as everyone wants to see our lovely, fluffy chicks. The Reception children have been watching them, stroking them and even measuring them with unifix cubes! Visit the Reception Class Page for even more pictures!
Crocus Planting and Purple Day (Feb 2014)
All the children planted crocus bulbs and dressed in purple for the day to raise money in association with the local Rotary club to 'Rid the world of Polio'. A fantastic £271 was raised which will be trebled by the Bill and Melinda Gates Foundation. Many thanks to everyone for their support.
Creation of New Tyre Park