Bikeability 2 Level
Last week, over 3 after school sessions, 11 Year 4 pupils completed their Level 2 training with Rob and Tracey from Ferndown Leisure Centre. After doing the usual ABC bike and other checks , we headed off into the neighbouring estate to practise emergency stops, left and right hand turns, into and out of major and minor roads. We learned the names of the different types of junctions, and the primary and secondary positions cyclists should be in for different manoeuvres. The children even got to cycle along Glenmoor Road on their last session to head back to school.
Well done to all of them!
Mrs Bingham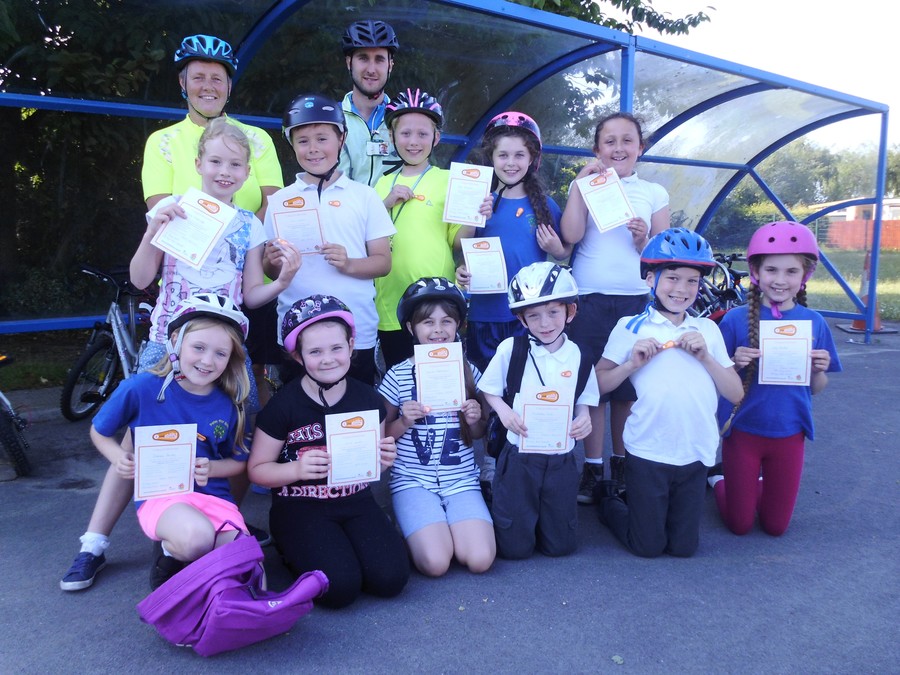 Thankyou Mrs. Mills
Mrs Mills receives flowers on behalf of all children for her hard work raising money for the school.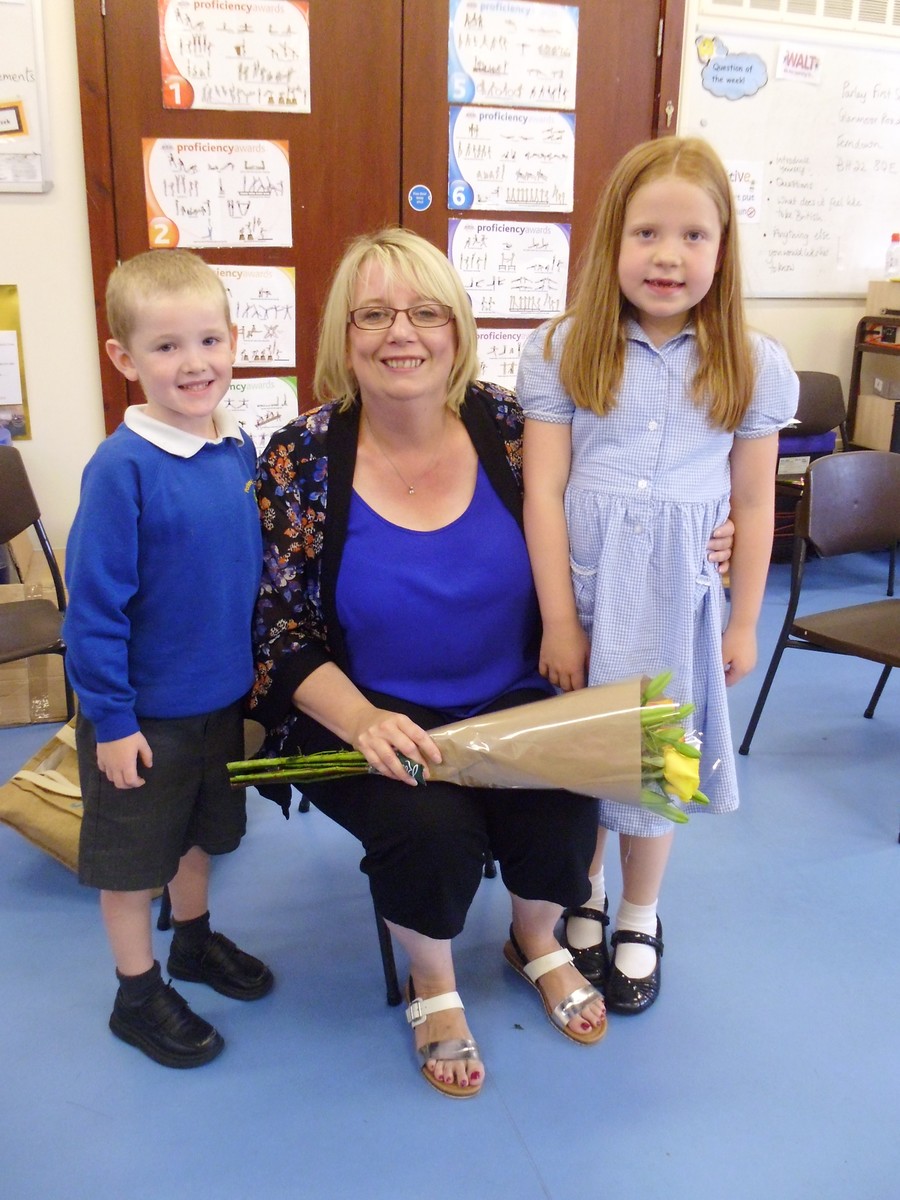 Savage Skills Bike Stunt Show
Following the success of our Big Pedal results back in March, Parley First School was treated to this special show on Tuesday afternoon. Ben Savage, who is a champion stunt rider, thrilled both children and staff with his spectacular show. We learned why his bicycle doesn't have a saddle, and watched Ben perform all sorts of stunts, all dependent on his balancing skills – his feet on the pedals and hands on the handle bars. He jumped up onto platforms, along a 'ladder' (both up and down), and even high jumped over a bar (like high jump) – on his bike! The bar was higher than some of the reception children! Some of the ramps for his show were on top of the two vans, so he was jumping up and down some tremendous heights, his feet never touching the ground.
The finale of his show was a bit scary for Mrs Odell, Mr Perry and Mrs Bingham, when from the top of his van, he jumped over them! A heart-stopping moment when it appeared that Ben was going to fall on top them – but luckily it was planned to make us gasp in horror! They were never in any danger, and the stunt was performed successfully with great relief to the staff members (and possibly the children!).
A big thank you to Darren Orchard, our school Sustrans Officer, who organised this special reward for us.
The Big Pedal will return next March, and if we all make a big effort during the event, who knows, Ben might be able to come back next Summer – but only if we come top in our area again.
Another big thank you to all the children and parents who supported us during 'The Big Pedal' this year, as your efforts put Parley at the top of our local table, resulting in Ben's visit.
In the meantime, why not take the opportunity to get bikes and scooters out, brush off any cobwebs, and come to school on 'pedal power'!
Mrs Bingham, School Bike It Champion.
Parley Blue Tits Webcam
We have been watching our nesting box closely. Here are a few pictures from yesterday.
Mini Marathon - Friday 24th April 2015
Congratulations to Mrs Leaper who completed the London Marathon yesterday in an amazing 4 hours and 50 minutes! It is an amazing achievement!
Mrs Leaper was running for the Debra charity.
On Friday, all the children took part in a mini marathon to further raise money for this charity and we would like to thank those parents who sent in a donation or who used the Just Giving page.
We will continue to collect donations in the office next week from any parents who would still like to contribute or you can donate on line at https://www.justgiving.com/Nicky-Leaper/
Year 4
To support Mrs Leaper's training for the London Marathon 2015, Year 4 joined the whole school by participating in a school mini marathon. Children ran in small groups, relays or individually. It looks like we might have some future long distance runners ourselves…
Reception Area - line markings
Thankyou!
No Put Down week took place during the last week in November in conjunction with the National Anti-Bullying Campaign. This is a vital part of our PSHE curriculum, as we encourage the children to focus on the contribution we can all make to help each other feel safe, learn effectively, have a positive self-image
and maintain healthy friendships.
We will be focussing on the wider community this year - thinking about how our actions can share kindness and positivity with those people living and working in and around Parley.
Children in Need - 'Dress up as your hero' day
KS2 Fun Run - 23.10.14
Fourteen children from Year 3 and 4 walked to Ferndown Middle School yesterday to take part in a Fun Run Relay. The children were split into different teams and carried relay batons, starting off the Fun Run. They 'ran' approximately half a mile, then passed their batons to other team 'runners' from the different year groups in Middle and Upper School, who each ran a mile. It was a fantastic experience for Parley children to mix with the older children. Everyone encouraged their team members (and all runners) to make it a very enjoyable time.
Well done to everyone for taking part.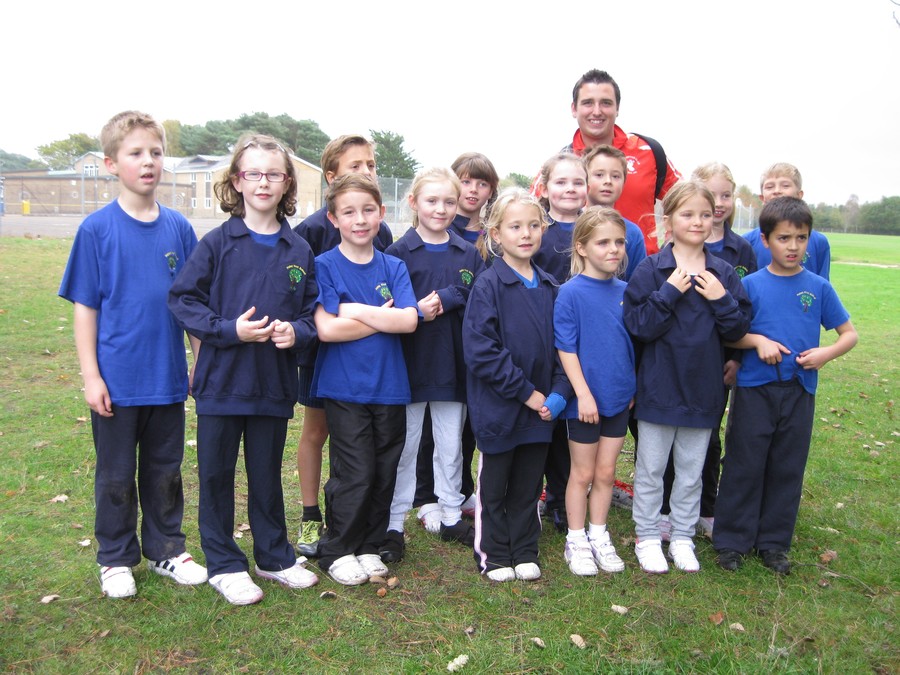 RNLI Assembly
On Monday 6th October we had an assembly from the RNLI. We learnt that life guards wear a yellow top and red shorts. We also learnt that swimmers have to stay away from the surfers and swim in-between the yellow and red flags.
Report from Liam, Tyler and Jasmine
Dodgeball Taster Session - 12th Sept 2014
Children in Year 4 had a great opportunity to do some Dodgeball Taster sessions. A Dodgeball club for Year 2, 3 and 4 is available after school on a Monday. If you are interested please contact www.juniorsportscoaching.co.uk
01202 303376