Welcome to the Gallery!
There are many more pictures within the year group pages. Click on the Year Group above.
Farewell to our class of 2018/19
Sports Shield Winners 2019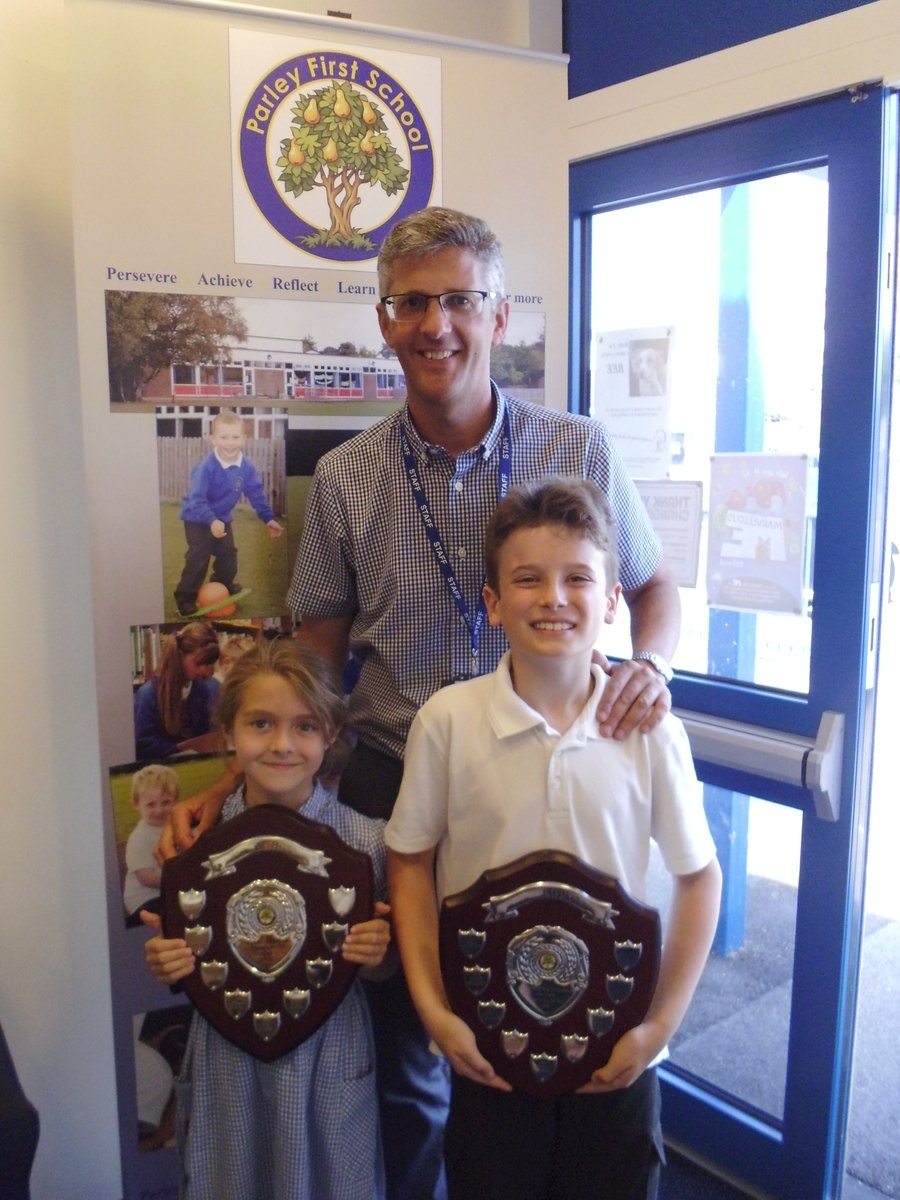 Year 4 Athletics - Kings Park Athletics Park, Bournemouth
11 June 2019
William, Oakley, Freddy and Ethan, and Hunter, Erin, Evie-Ella Sisley represented Year 4 Parley at this event earlier in the week, competing against 8 other schools in East Dorset. Each of them had the opportunity to enter into the 60m and 300m track events, and the long jump and throwing field events.
Our children entered both the 60m and 300m races. Freddy ran his way into the boys' 60m final and was therefore advised against running in the 300m to conserve his energy for the 60m final. All of them ran really well, experiencing the starter's gun, which was rather loud and made Evie-Ella jump every time!
In the field events, Oakley and Hunter picked up 1st place in the boys' and 2nd place in the girls' throwing event. The boys threw a cricket ball; the girls a rounders ball. Some of our children experienced the long jump pit. It was a fast learning curve, the children never having done this event before! A quick lesson followed about the white jump board, and knowing to fall forward (hands and bottom!) and to walk out of the sand to the front, not the back, as the distance is taken from the 'marker' (ie hand/foot/bottom imprint) nearest the jump board, not where your feet land!
The session ended with an inter-school fun relay race, having to pass the baton between runners.
The weather held up for us and although there were some rather black clouds looming, it kept dry for us all in the morning. We all had a very good time, filled with new experiences.
Mrs Bingham
Football
On Wednesday 20th March, 21 Year 4 children took part in the Pyramid Football Tournament. Both teams tried incredibly hard and showed great sportsmanship and team work. Parley Boys and Parley both came 2nd in their tournaments.
Swimming
On Friday 8th March some Year 4 swimmers went to Canford School to compete in the East Dorset Schools swimming gala. All the children trained hard for the event and all their practice paid off in the individual and team events. Mia and Tom were particularly speedy, both winning their heats and qualifying for the Individual 25m events at the County Final in June.
World Book Day
The children celebrated World Book Day by coming to school dressed up as their favourite book character. Also, after the success of last year's book swap the children were allowed to bring in unwanted books and swap them for new ones to update their home library collection. During the morning, all year groups visited other year groups to share some of their favourite stories. You can see more pictures on the class pages.
Christmas Carols
We enjoyed singing Christmas carols and songs outside out school. It was quite cold but it stopped raining while we sang. Thank you to 37 Coffee shop for providing hot chocolate and to Tesco for giving out mince pies and chocolates. We wish all our Parley community a very merry Christmas and a happy 2019!
Online Safety Competition Prize Winners
The Digital Leaders organised a whole school competition to make a poster to educate the rest of the school on how to stay safe online. These are the prize winners with their posters.
They will be on display in the school entrance for everyone to see.
Year 3 and 4 Fun Run
Year 3 & 4 did a great job at the East Dorset Fun Run. They had to complete a 1km cross country race. against other children from local schools. Our children showed great determination and team work.